Tree Fiddy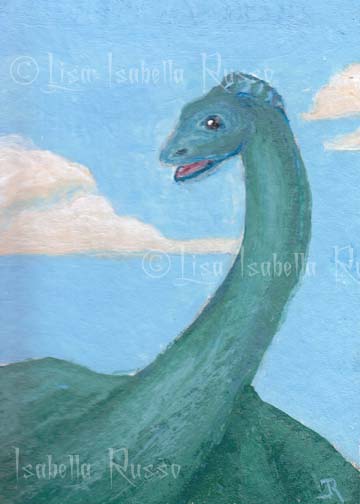 Original size 2.5"x3.5" © 2014 Lisabella Russo (formerly Lisa Isabella Russo)
"Chef's Mother: I gave him a dollar.
Chef's Father: She gave him a dollar.
Chef's Mother: I thought he'd go away if I gave him a dollar.
Chef's Father: Well, of course he's not gonna go away, Mary! You give him a dollar, he's gonna assume you got more!"
from South Park 1999

As any South Park fan knows, the Loch Ness Monster is all about $3.50. Why the Loch Ness Monster wants tree fiddy (alternately spelled tree fitty) is anybody's guess though. This "giant crustacean from the Paleolithic Era" is a creature of many mysteries... The piece has a lowbrow fantasy feel.
The original painting is sold. It is available as a 5"x7" Open Edition giclee print and as a 2.5"x3.5" Limited Edition ACEO giclee print. The ACEO edition is limited to 25.
Shipping reflects U.S. prices only, International buyers please contact me for a quote based on your location.
| | |
| --- | --- |
| | |