Entwined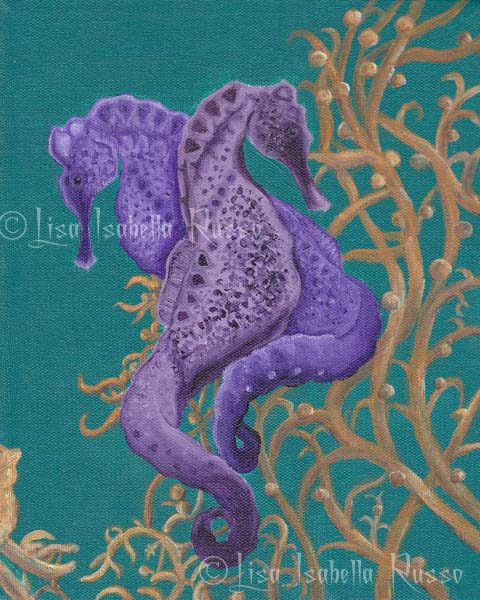 Original size 8"x10" © 2013 Lisabella Russo (formerly Lisa Isabella Russo)
I think seahorses are fascinating and beautiful. One is purple and the other is lavender. Seahorses come from the genus "Hippocampus," which derives from ancient Greek; "hippos" meaning horse and "kampos" meaning "sea monster." Seahorses aren't very strong swimmers, they like to hold onto things with their prehensile tails, so I've given them some seaweed to hold onto. The art has a soft realist feel.
The original painting is an 8"x10" acrylic painting on canvas. It is also available as 8"x10" Open Edition giclee prints and as 2.5"x3.5" Limited Edition ACEO giclee prints with some cropping. The ACEO edition is limited to 25. To see the cropped version of the ACEO in advance, please email me.
Shipping reflects U.S. prices only, International buyers please contact me for a quote based on your location.
| | | |
| --- | --- | --- |
| | | |